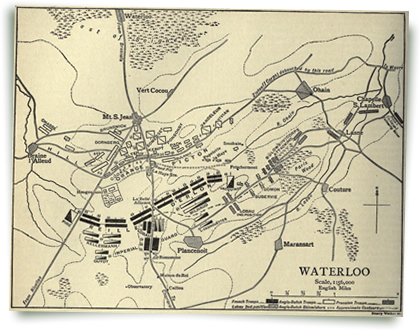 By 1804, Napoleon Bonaparte was Emperor of France and Ruler of all Europe. His only undefeated enemy was Britain, with their powerful Navy. After his failed invasion of Russia and catastrophic retreat from Moscow, he went into exile, only to return for a last showdown with the European Allies.

Battle of Waterloo 1815, Miniature Model Re-Enactment
Bringing History Alive
This workshop presents the details of this bloody battle using over 1,000 hand painted soldiers, models and figures. It is a scenic representation of the tactics and manoeuvres of the battle itself with commentary. Commentaries are between 5 mins and 40 mins. Questions and answers, debate and discussion are encouraged.
This colourful presentation is ideal for schools, community groups, public and private events and can be staged inside or out. The rise and fall of Napoleon is a fascinating era of history, brought alive by a visual experience that engages, explains and entertains audiences of all ages.