Storytelling with attitude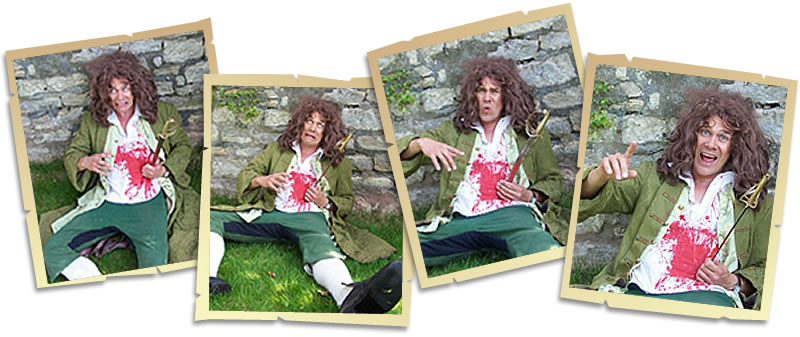 Description
The Dying Pirate and Gothic Ghost are costumed storytelling characters from the "dark side".
Twist the sword and finish him off. He doesn't die easily or quietly though
Listen to his yarns and stories of misfortune
Ghost stories and tales of woe are a speciality
Gruesome and gory, or madcap and silly, with lots of audience participation
There are also plenty of sweet, gentle and charming stories for all ages, told by costumed characters to suit the mood

The Halloween Show
The Halloween show has been haunting Bristol for a few years now. It is a spooky mix of stories, sketches and puppetry to make you laugh or scare the pants off you - and often both!
Spooky for kids and funny for adults.
Halloween show parent feedback
Goram and Vincent
Goram and Vincent is an old Bristol legend of how the two giants found the river Avon, carved the Avon Gorge and laid the foundations for Bristol's Hills. 20 minute shows using table-top puppetry.
Storytelling to suit
Mr Brown's Pig is also a regular on the local storytelling scene. Short, long, silly or serious, he now has a wealth of material for old and young alike.
For more information, please get in touch.
See also