Pirate Birthday Party with Bristol's Captain Barnacle.
Description
A swashbuckling pirate hero from Bristol
Perfect for children's pirate parties and character walkabout entertainment, with many a yarn and lots of surprises in his sea chest (A-haaarr!)
A one-man pirate pantomime show featuring comedy, music, puppets and mayhem
Pirate activities and workshops for primary schools
Length of shows 30, 45 or 60 mins
Table-top puppetry and over-acting at its best
Performances inside or out, full amplification if required.
Material
Our brave pirate captain will tell you of his adventures at sea and on land with his girlfriend Zah Zah and the little baby
Learn how to be a goodie pirate, unlike Blackbeard who keeps trying to kill our gallant hero - Watch out for the sea monster
Large scenic backdrop if possible
Features wee, sick, poo and lashings of silliness!
Pirate 'Horrible History' style classroom visits and school workshops too. See the Workshop & Schools page for details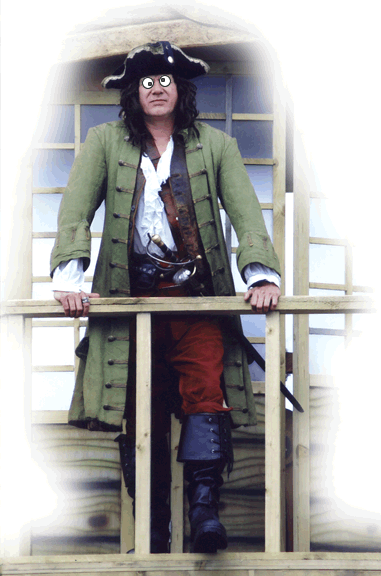 Comments
This show has been going from strength to strength over the years and seems to be as popular with many grown ups as it is with children!
It features some lovely props and is great for audience participation and banter. Pirate maps are a give-away at children's parties
Watch a video clip
See also